ASCOT RESIDENCE
CURTAINS AND BLINDS BRISBANE CASE STUDY
Curtains, blinds and shutters are used in combination to keep this light-filled Brisbane home comfortable, private, and beautiful. Here we share our expertise on how we chose the perfect window coverings for this unique space.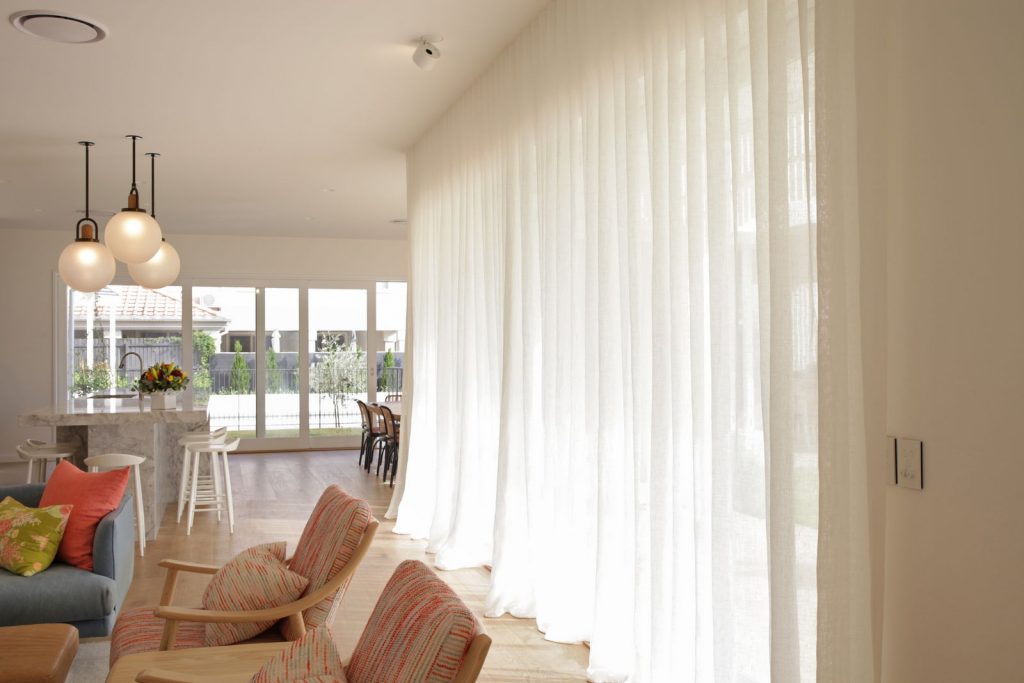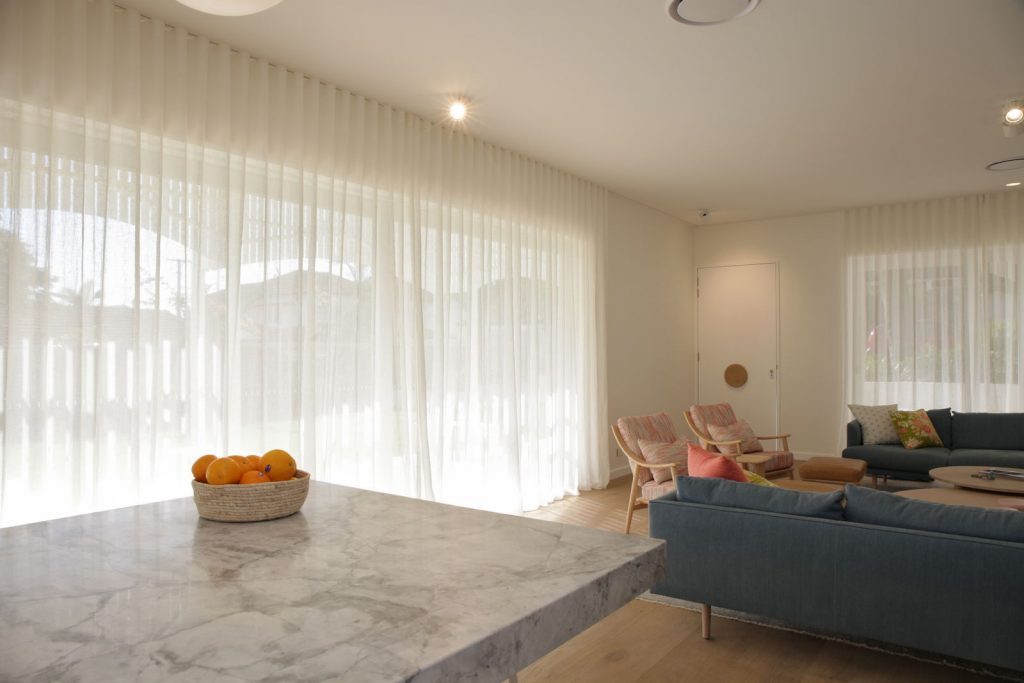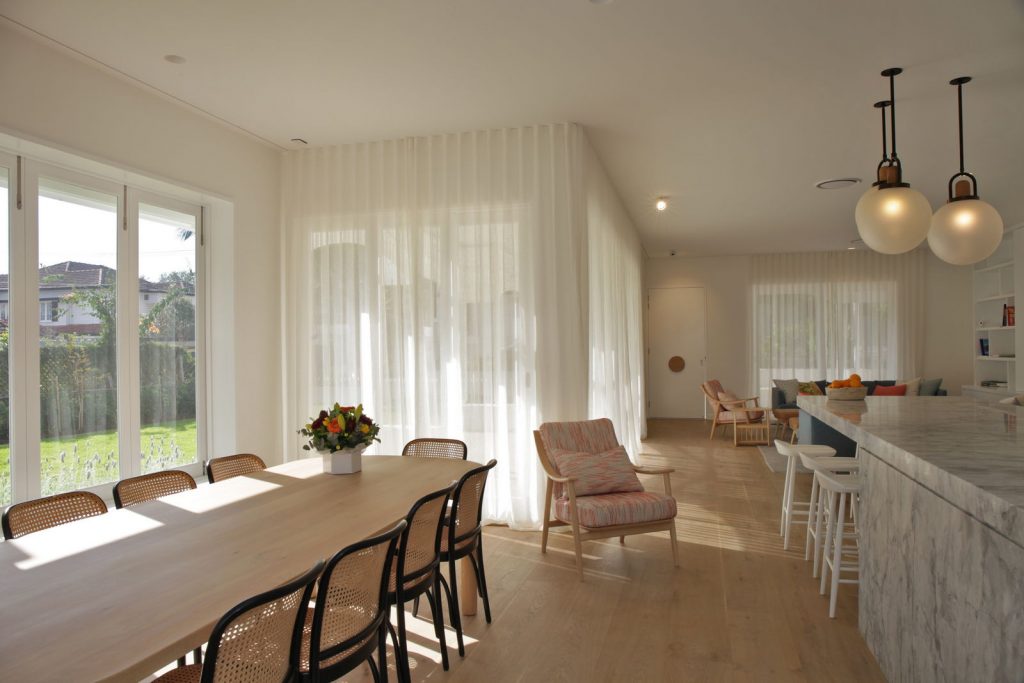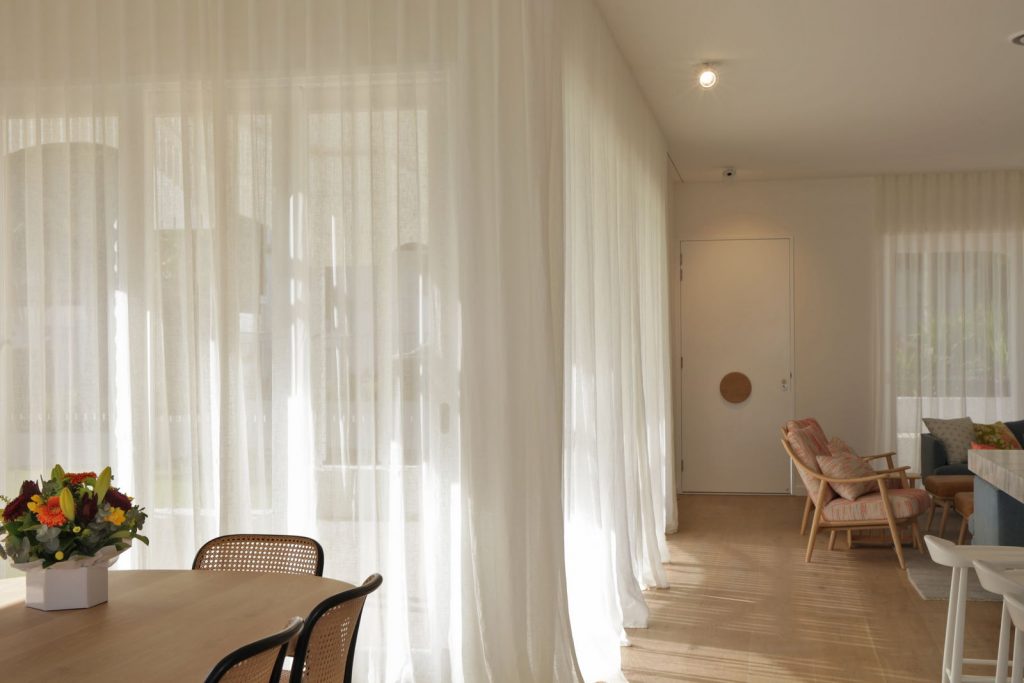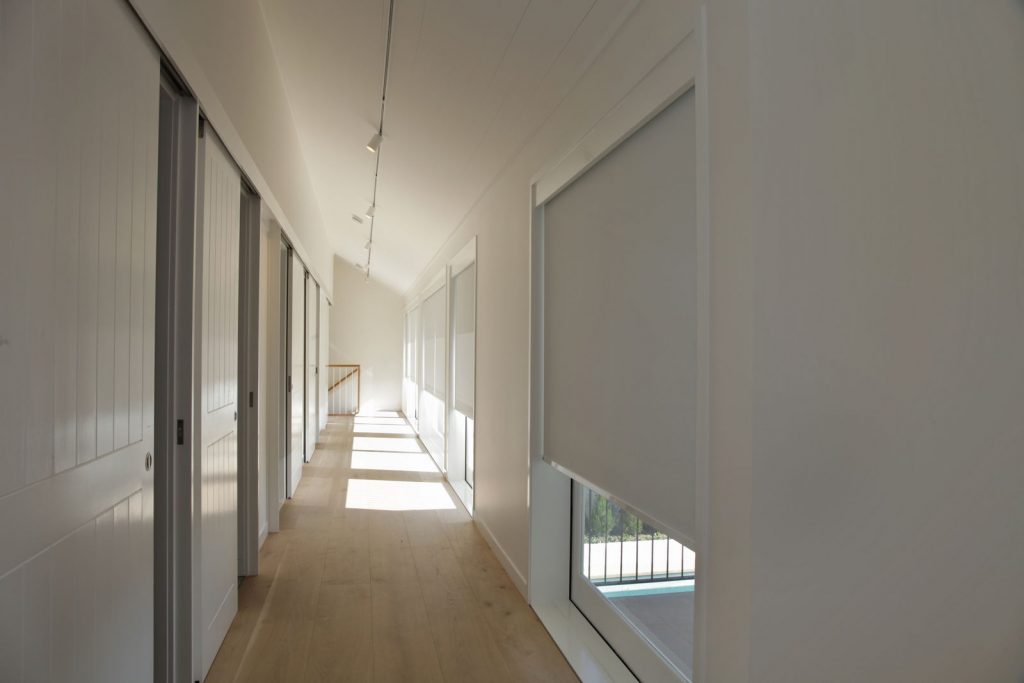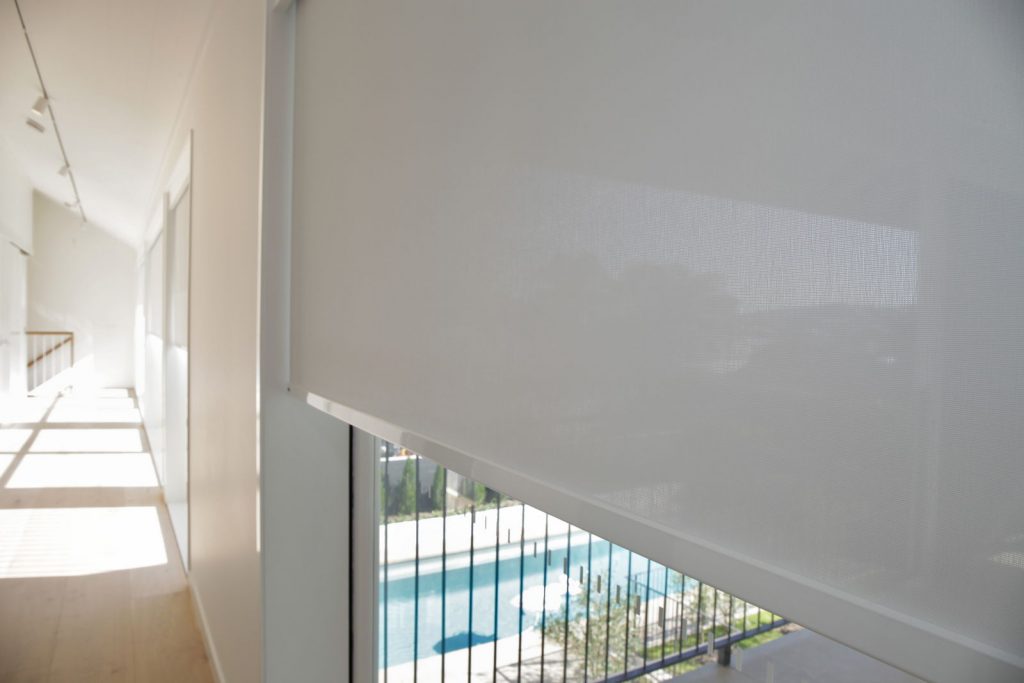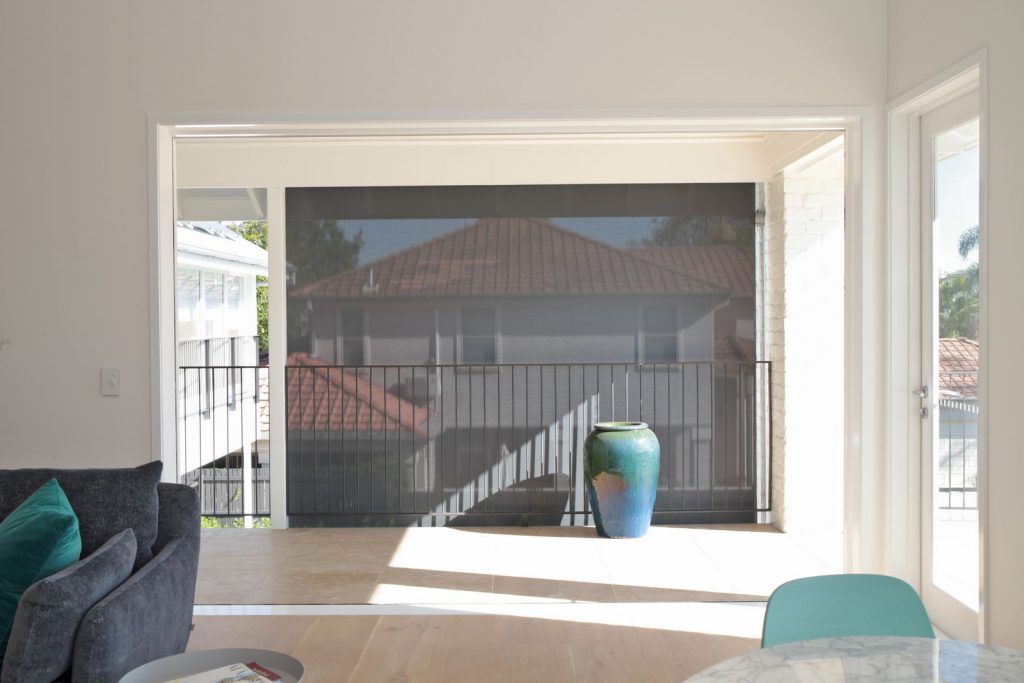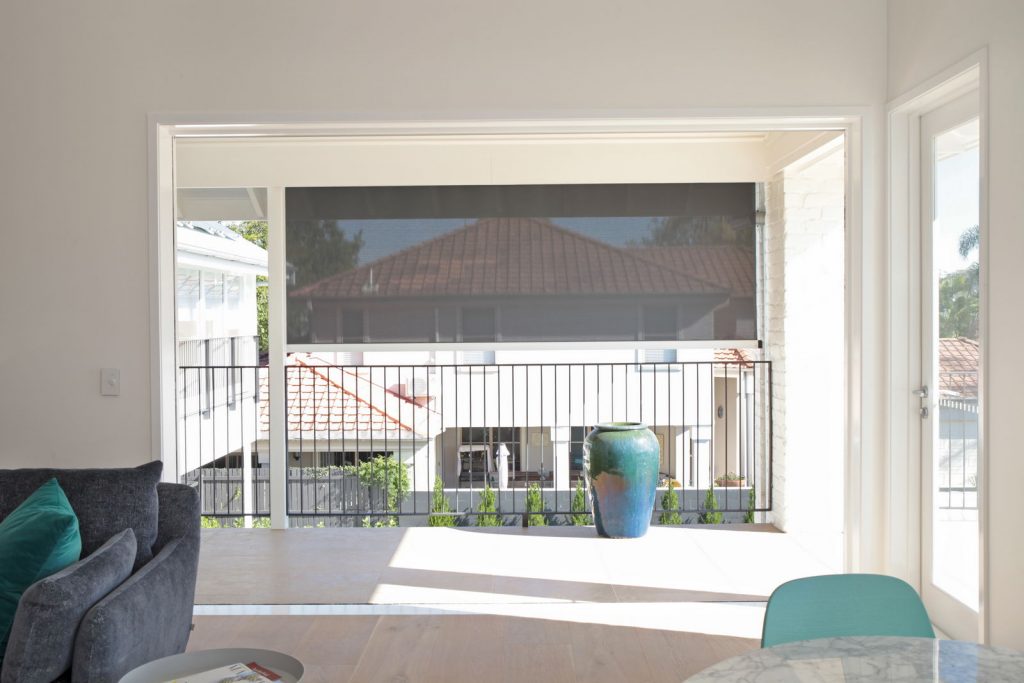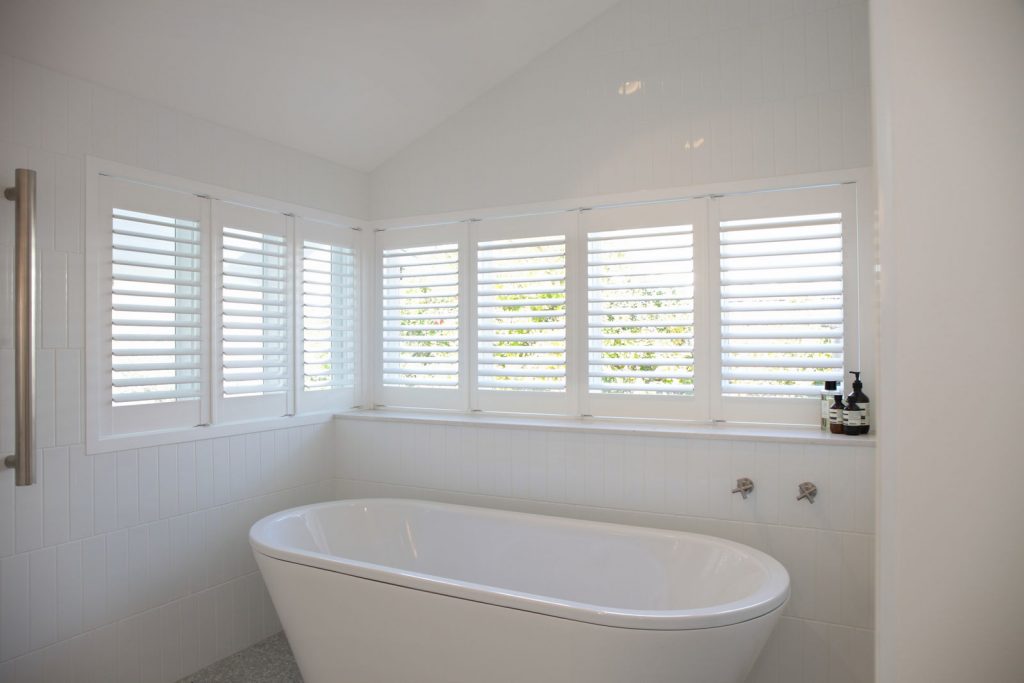 Timeless, minimalist and sleek, the Ascot Residence is a stylish home, demanding window coverings that not only match the space aesthetically but are fit for the challenges of the Brisbane climate. Fitting out a home or commercial space is always a balance between functionality and design, with both appearance and performance being crucial factors, but never more so than when fitting curtains, binds and shutters in Brisbane, where heat, humidity and UV can have significant effects on your home.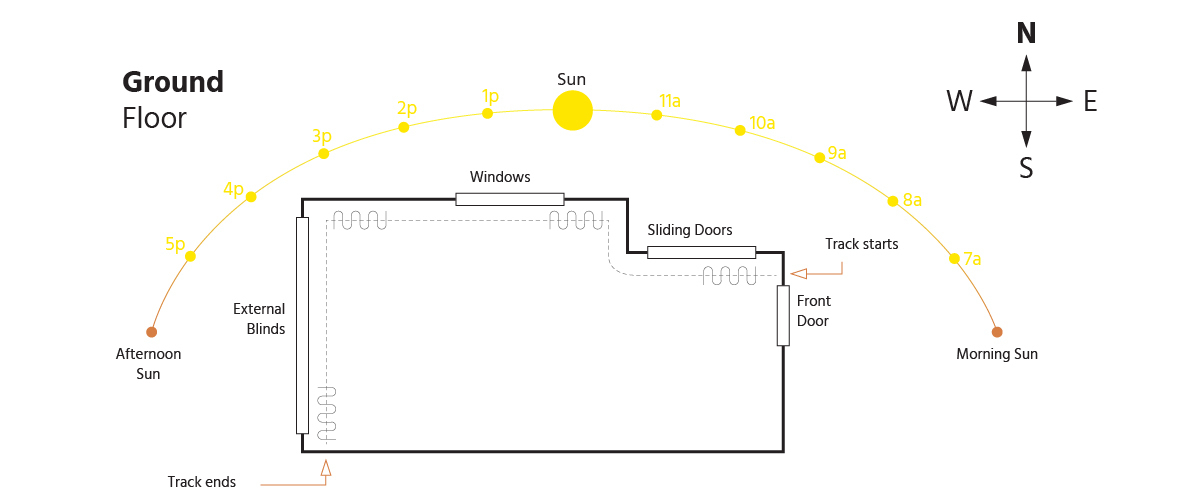 Ground floor recessed track was used around 3 areas to allow client to move linen curtains where required recessed curtain track integrates seamlessly as a shadowline in the ceiling
TYPES OF WINDOW COVERINGS USED
CURTAINS
On the ground floor of the Ascot Residence, sheer linen curtains were used, placed on recessed tracks that allow them to be moved around the perimeter of the room. This allowed the client the flexibility to easily move the curtains where required: the ideal solution for a room surrounded with windows and sliding doors. By choosing custom made curtains Brisbane clients ensure they are designed perfectly for their space, for optimum fit, function and appearance.
Recessed tracks integrate seamlessly as a shadowline in the ceiling, maintaining a clean, minimalist look. Wave sheers offer the perfect solution for this space, providing privacy while still allowing natural light into the room, and offering a luxe feel.
These sheer curtains were combined with external blinds to maximise performance and temperature regulation. When choosing the best blinds and curtains Brisbane's climate was high on the list of considerations to ensure that we selected window coverings that will perform appropriately and stand the test of time. By combining sheer curtains with external blinds, the client is left with the choice to put the blinds down and keep the heat out, or open up the blinds and sliding doors and allow the breeze to blow through the curtains and cool the home.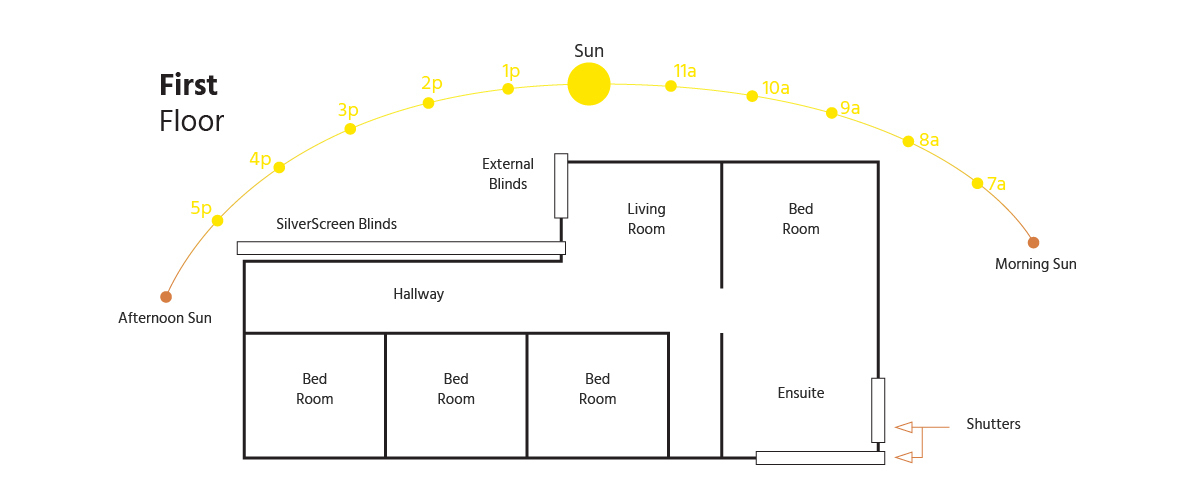 FIRST FLOOR PRODUCTS
SILVERSCREEN MOTORISED BATTERY OPERATED BLINDS


SilverScreen blinds were used to keep out the western sun, connected to Conexoon from Somfy. They are programmed to go down at the right time of the day to keep heat out.

EXTERNAL BLIND – WIRE GUIDED SYSTEM


Keeps western sun heat out and also provides privacy from neighbours.

POLYRESIN SHUTTERS IN ENSUITE


Provide adjustable privacy from neighbours whilst allowing air flow. They also complement the classic part of the home very well
SILVERSCREEN BLINDS
SilverScreen roller blinds were used on the first floor hallway of this home to protect the upstairs living areas from the hot western sun. When choosing between the best indoor blinds Brisbane's heat was our primary consideration: Silverscreen blinds allow for superior heat regulation, keeping the home cool and comfortable. Other non-metallised options would not be sufficient for northern and western facing windows in this hot climate.
Blinds made with SilverScreen metallised fabric, a technology invented by Verosol, feature fabric backed with aluminium to reflect UV rays, keeping heat in when it's cold and out when it's hot. The temperature regulation offered by these blinds is superior to that of total blockout blinds, yet still allows light in and maintains a view out. In Brisbane, blinds like this can make an enormous difference to the comfort of your home, your household expenditure on heating and cooling, and ultimately your carbon footprint.
In this home, we used motorised battery powered blinds for increased performance, with the blinds programmed to go down at the perfect time of day to protect the home from the heat of the sun. The Somfy Connexoon automation system was used for simplicity and ease. This is another feature that is especially beneficial for Brisbane's screens and blinds, as it can ensure your home is cool when you return from your day without you having to remember to close the blinds before you leave the house.
EXTERNAL BLINDS
External blinds are ideal for protecting your home from the heat of the afternoon sun. In this home we chose to use Verosol's Wire Guided external blinds in two places: on the first floor balcony, and coupled with sheer curtains on the ground floor.
On a balcony, external blinds not only keep the heat out, but also create an extension of your indoor living space, providing a practical and more versatile outdoor area for entertaining. This makes external blinds Brisbane's most in-demand option for those who love al fresco dining.
External blinds coupled with curtains like on the ground floor allows for the best of both worlds, since you are able to stick to curtains when there is less heat in the sun to maximise light and view out, while still having the option to use the external blinds when it is hot.
When choosing outdoor blinds Brisbane's hot climate was our main concern. External blinds stop UV rays before they hit the glass of your windows and can generate heat, which makes external blinds and awnings a Brisbane home's secret weapon against high cooling bills.
SHUTTERS
Shutters are the ideal choice for the bathroom of this home, offering privacy without compromising on the beautiful light in the space or the options for ventilation. They are easy to adjust and each blade is reinforced for strength and longevity.
Our polyresin shutters are made from premium quality moisture-resistant materials that make them durable even when installed in wet areas such as over this bathtub. This is also important for Brisbane's shutters and blinds which may be exposed to more humidity than in other geographic regions.