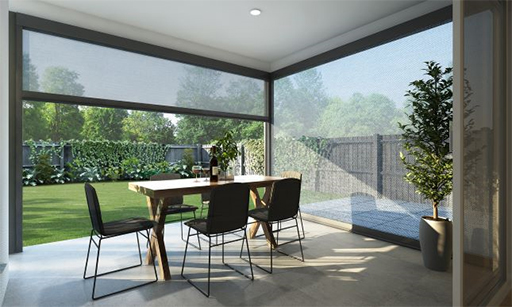 Window coverings or shading solutions are among the most significant investments you can make in your home. Blinds, curtains, shutters or exterior products such as external blinds or awnings have the potential to enhance the aesthetics and ambience of any property; but choosing the right product is about much more than simply finding something that coordinates with your decor.
Let us know what you need by filling out the checkbox at the end of this page.
Know your space
Whether you're investing in new window coverings for an entire home, or simply refreshing one area or room, choosing new products can be daunting, so it helps to have a strategy in place. If you're adding to existing window coverings, you'll need to find new products that coordinate visually and functionally. If you're doing a wholesale makeover, you'll need to think about each space and its needs separately while also considering how the whole home will hang together.
Some common spaces for window coverings and the products best suited to them might be:
Living Area
Many living areas feature large openings to let the outside in, while others that are street facing or close to a neighbouring property might require privacy.
Curtains
Curtains are increasingly on trend in interiors where a softer, more sophisticated look is required. They lend a sense of 'finish' and can provide a high impact visual statement, whether that be in a bold print or a diaphanous sheer. Curtains' unique point of difference lies in their ability to dramatically enhance the mood of a room or space, create a sense of drama and add visual interest by layering a range of textures.
Depending on the type of fabric, curtains can increase your privacy, insulate your space, or stop interior furnishings from fading.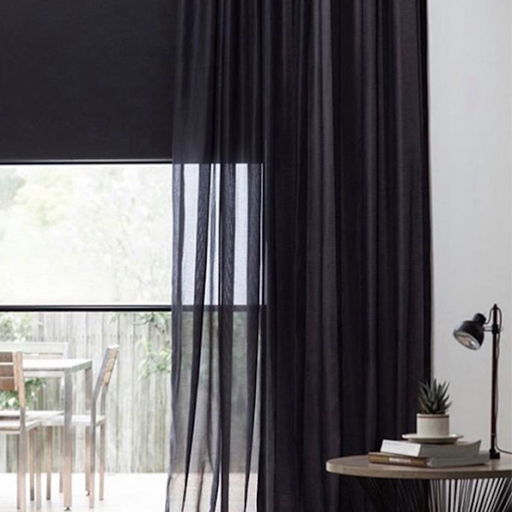 Roller Blinds
Roller blinds are regarded as a cost effective, timeless classic that will unobtrusively bring functional benefits to many areas of a home. Manually operated or automated, their chief benefits are: either maintaining visibility to the outside or increasing privacy. Roller blinds in Verosol's range of High performance SilverScreen fabrics simultaneously allow visibility, remove UV light that will fade furnishings, and subtley control light and glare. They also avoid colour render, a phenomenon that occurs when the interior becomes tinted with the colour shining through the textile. For example, if you have a pink sheer, the light turns the room pink. With Verosol's High performance metallised fabric in pink the sheer will be pink but the room will stay true to its original colour.
Roller blinds can also be used together in living areas through the addition of sheer or textured fabric drapes.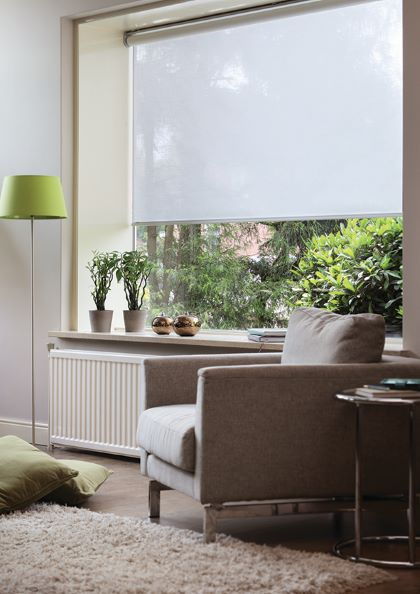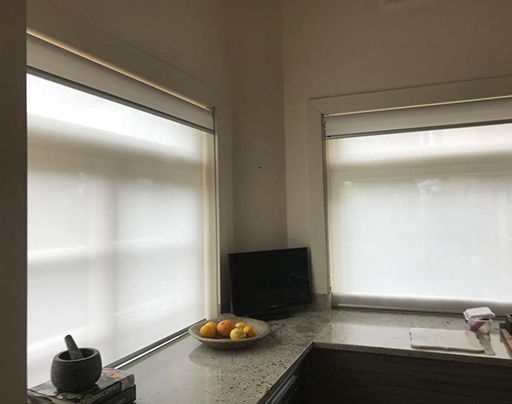 Shutters
These are one of the most popular window coverings on the market due to their classic appeal, timeless finish and durability. Shutters are safe, cordless, fixtures with tilting slats that enable you to control your privacy as well as the light and heat levels entering your interior. They are also one of the few window coverings that allow the luxury of use with open windows, encouraging the flow of fresh air into the interior.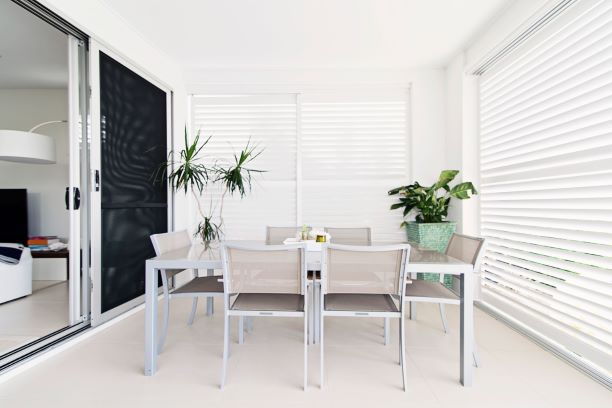 Bedrooms
Most of us seek comfort and seclusion in this most private area of the home. Bedroom window coverings should ideally offer day and night privacy, as well as light control to enable room darkening for sleep and optimised natural light during the day.
Pleated & Cellular Blinds
Pleated blinds provide a stylish look for bedrooms and can be used as an on-trend, step up alternative to roller blinds. Providing day and night privacy, they also control the light entering the room and when used in Verosol High performance Silver screen fabrics also have the potential to control the interior temperature. One of their biggest advantages however is that their compact profile hides huge potential. Pleats are a slimline blind requiring minimum space for installation, and can be stacked into a very compact recess. At the same time, they can stretch to great widths and drops. Again, pleated blinds in metallised high performance textiles will allow visibility, and UV, light control – and they will avoid colour render. Twin pleated products are another great treatment for bedrooms, offering daytime and nighttime privacy in one treatment.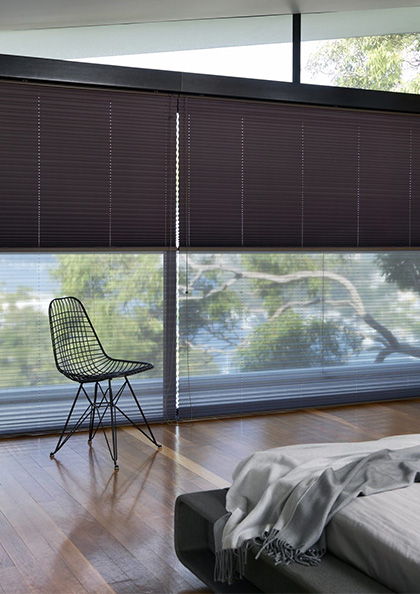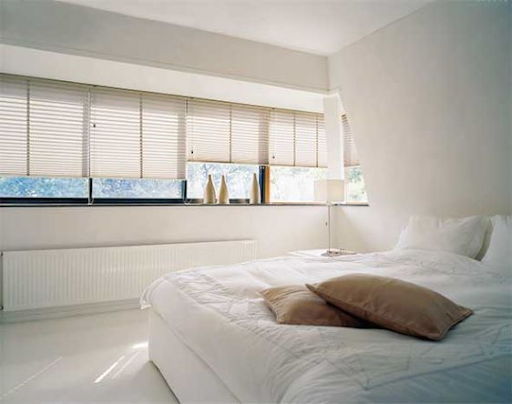 Curtains
Curtains are back in vogue for bedrooms, offering a sumptuous window covering that brings softness to any space designed for relaxation. Depending on the fabric or combination of fabrics used, curtains are great for increasing your privacy, insulating your space and preventing fading of interior furnishings. Other products can be effectively combined with curtains, for example a blockout roller with a sheer curtain, to provide cost efficiency with functional and aesthetic benefits.
Bathrooms
Bathrooms have particular requirements for privacy, while the best versions of this functional room may also benefit from an enhanced view from a well positioned tub! As wet areas, they require window coverings that are easy to wipe down or won't succumb to damp and mould.
Venetian Blinds
Probably one of the more suitable products for bathrooms, venetian blinds offer a no-fuss, wipe down surface. Their slats can be tilted for view and privacy, as well as glare control, with fresh air circulation.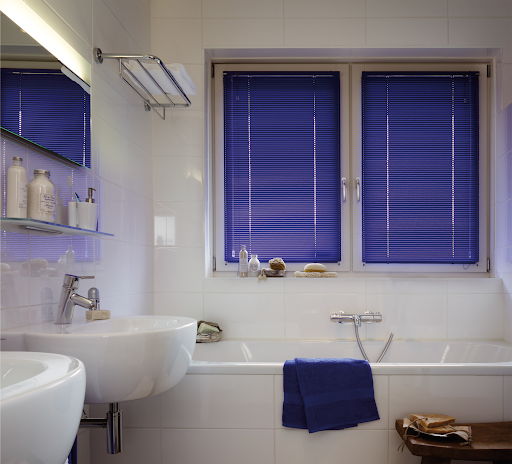 Pleated & Cellular Blinds
In a bathroom setting, pleated blinds provide day and night privacy and light and temperature control. Verosol's Duo pleated blinds (working from bottom to top), are a great choice for bathrooms, offering style, privacy and practicality with the ability to provide full or partial shading and airflow. They work particularly well with the vertical operation of sash windows.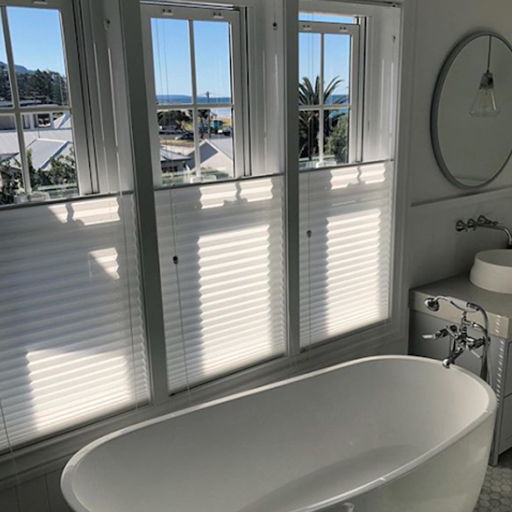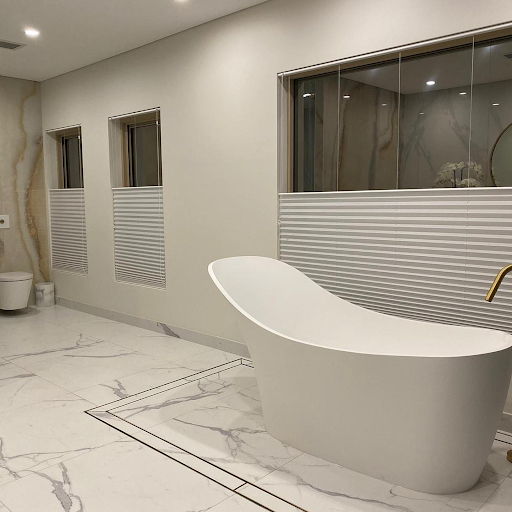 Roller Blinds
Positioned away from excess wet or damp, roller blinds create a slick profile in keeping with a bathroom's function. They also offer privacy, control light levels.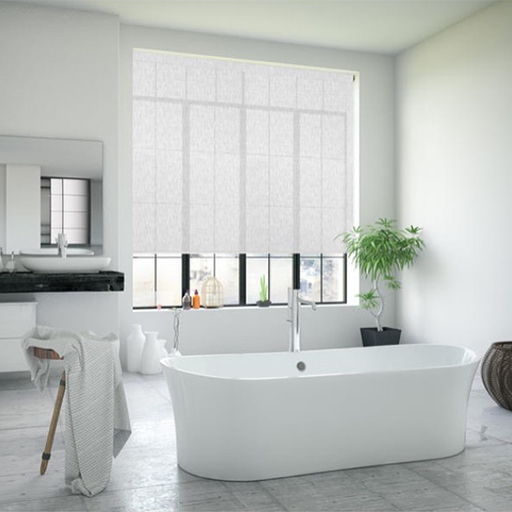 Shutters
Polyresin shutters are another ideal choice for wet areas such as bathrooms (as well as laundries or kitchens), with the blades providing privacy and air flow. They offer a high degree of resistance to mould and the blades can be wiped clean, making them a very easy window covering to maintain.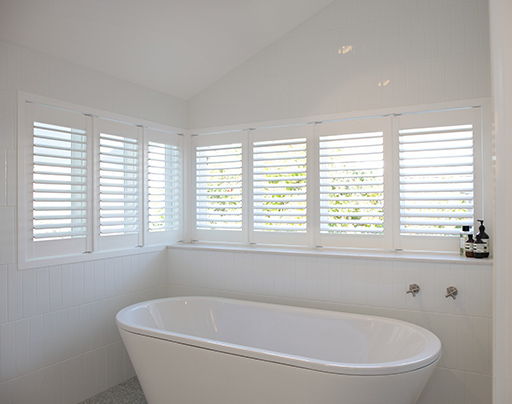 Outdoor Areas
As much a part of the home as any room, the outdoor space is increasingly being designed or seen as an extension to the main living area.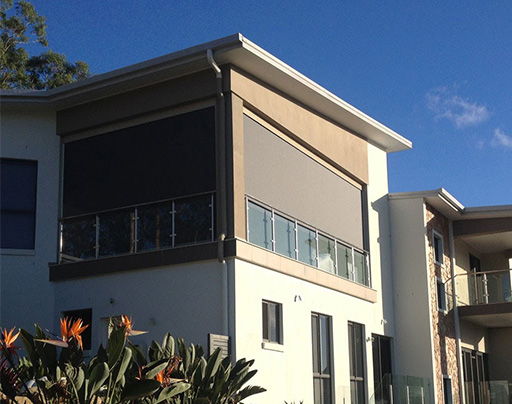 External Blinds
Manual or motorised, external blinds maintain views to the exterior while also increasing privacy or offering protection from the elements and insects.
A common use for external blinds is to provide shading for areas where the sun directly hits an outdoor space. Verosol offers many different levels of shade and privacy (in many colours) so you can enjoy your outdoor rooms. Veromax External Roller Blinds, are a premium external blind, available in a wireguided or Verolock (Zip) system. This solution is also offered internally as Veromax Internal for wide span windows where conventional roller blind systems can't be used.
Our external blinds are larger and more heavy duty than most, going against the trend to create lightweight, low cost systems. An Australian designed and manufactured product that suits our harsh conditions, they are engineered to suit spaces up to 6.5m x 4m.
The second, Ambience External Roller Blinds are also available in wireguided and Zip profiles and offer manual spring-assisted operation, manual crank operation or motorised operation. External blinds can also be very useful if your home has one aspect that makes a space unliveable, a small zone that needs a little extra privacy, or unwanted reflection entering the exterior off the water from a pool or water feature. They can be fitted with guide wires or side channels, depending on the unique requirements of the space. Guide wires are a discreet way to control blinds in terms of raising or lowering them in an outdoor space, without the need for additional side support. For side channels, additional fixing is required, but this form has the benefit of creating a space impervious to insects and light rain.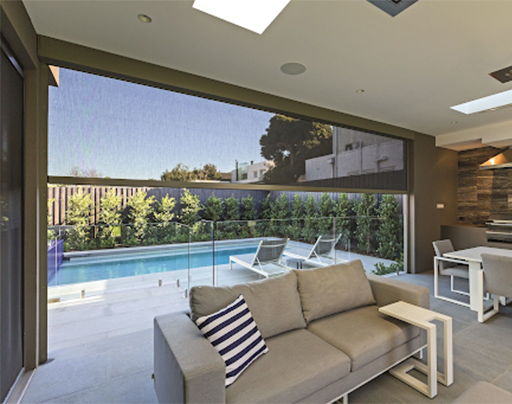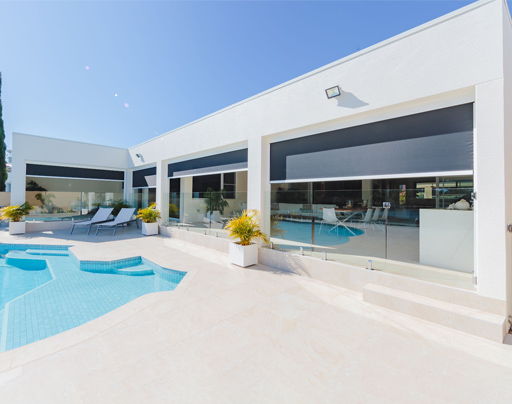 Combining interior and exterior treatments can offer the perfect balance for any season. While external products can be seen as an afterthought, it undoubtedly pays to consider them in tandem with internal ones. External products can complement the space internally and create a dual function for many rooms as well as increasing privacy. In particular, certain products such as exterior blinds and shutters can stop the heat hitting glazing and can assist in stabilising and maintaining indoor temperatures, lightening the load on air conditioning.Motorised external products can be connected to smart devices and remote controls, enabling one-touch control of internal and external moods and spaces. They can also be programmed with a seasonal or time-of-day automatic response.
Early design consideration and working with a Verosol specialist results in elegantly finished, purpose built outside spaces where a range of exterior products can be concealed, securely fitted and wired for motorisation, to look and function beautifully.
Shutters
Create a beautiful transition between a home's interior and exterior spaces, and complement Verosol's internal collection to create a seamless flow. Aluminium shutters for external use are a durable, powder coated product with extended warranty. For peace of mind they are cyclone rated, so when storm season hits, you can feel confident the product will still perform.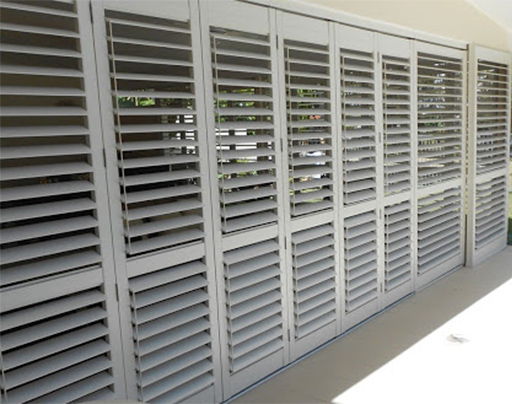 Kids' Bedroom
Whether you're creating a space for a newborn to sleep during the day or for older kids to dream in comfort, room darkening products such as blockout blinds or plantation shutters might be the solution. Colourful printed blinds or curtains (which can also work well with blockout blinds behind them) can add fun, flair and personality to your child's room.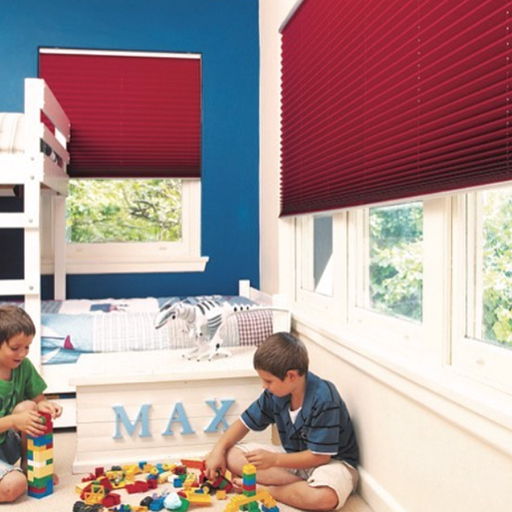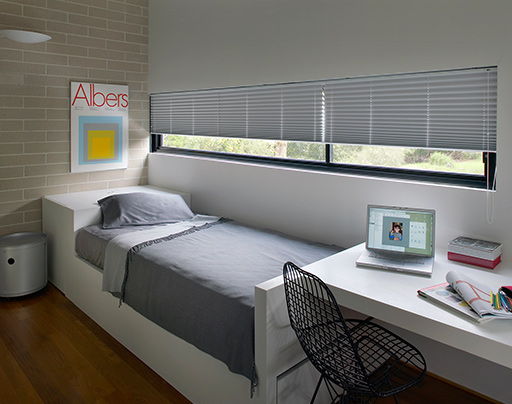 Interested in Automation?
When considering your options for window coverings, the potential benefits of automation quickly stack up. Windows can have their covers operated by remote control, smartphone, tablet or a specialist home automation system. This means you can manage the temperature or light in your home remotely or with sensors that move window coverings to protect your home.
More than ease of use, motorisation is worth considering when you have children in the home. The use of motorisation automatically means no cords (see below), giving you peace of mind. These systems can be powered by either batteries or hard wired into your existing power network.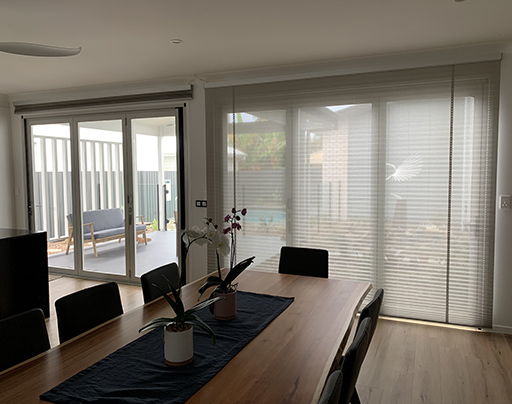 Unusually Shaped or Sized Windows
Whichever room in the house they occupy, shaped or outsized windows, or those located in hard-to-reach areas, provide a wonderful visual impact. Finding the right window covering solution can be a challenge however. Verosol specialises in a wide range of treatments for unique architectural windows and their equally unusual locations. One solution proving popular in the market at the moment is pleated blinds. Pleated blinds offer flexibility and a range of options for different treatments such as skylights, shapes including circles or arches, or raked ceilings that create triangular spaces. With their discreet fixings, pleated blinds will impress visually and are also suited to an automated upgrade. Shutters also lend themselves well to customisation, providing a bespoke solution to unusually shaped or positioned windows.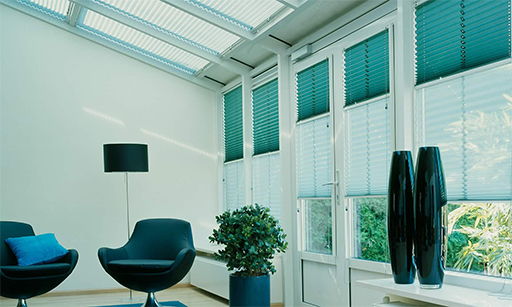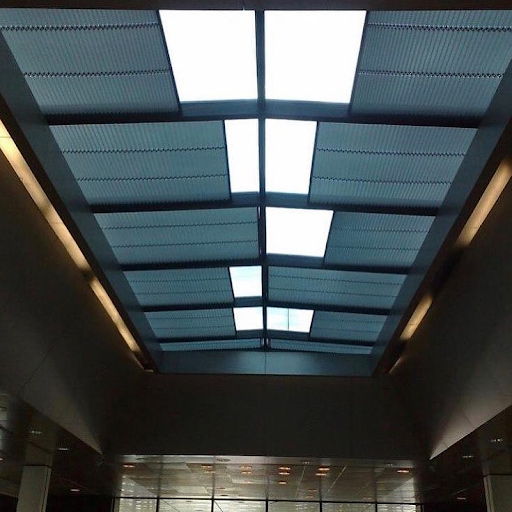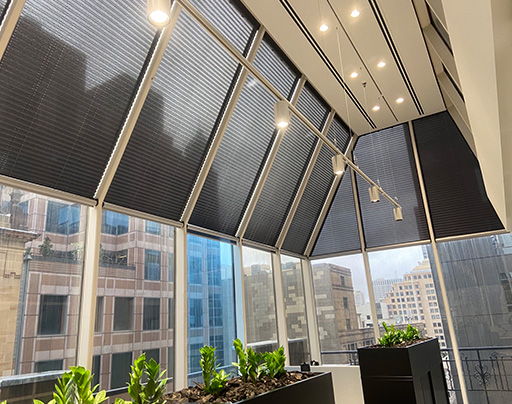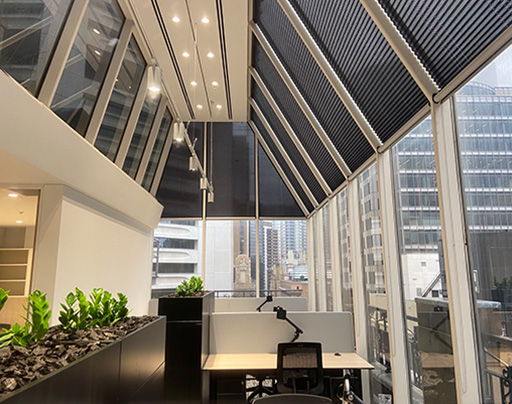 Consider the functional requirements
The functional benefits of window coverings are also critical, from privacy to light control or enhanced interior temperatures. Here are some things to consider when selecting your Window Coverings or shading solutions.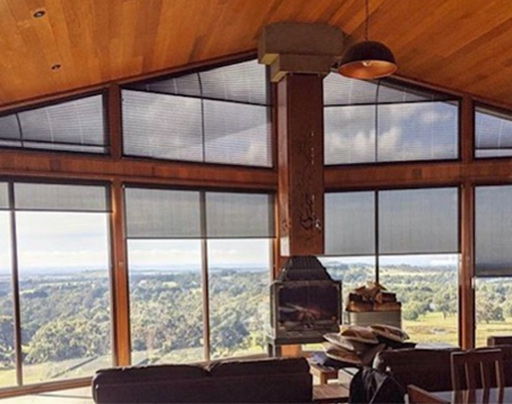 Temperature Control
Do you need to keep heat out of your interiors during summer, retain heat during winter, or both? Depending on the orientation and construction of your home, some rooms may be warmer or colder than others. Or you may need a solution that's reasonably adaptable to both Australia's most punishing summer periods and its coldest winter days. Selecting the right products can help create an ambient temperature all year round and save on your energy bills.
Comfortable lighting
Natural light is a boon to most homes, but occasionally there may be a need to control the amount of solar glare entering your interiors. Well chosen window coverings will enable you to enjoy comfortable light levels without glare and can even reduce reflections from screens while watching TV, or using devices.
Seclusion and Privacy
Highly desirable in busy urban areas but also worth considering for out-of-town properties, privacy is a key consideration from the point of view of both security and wellbeing. Well considered window coverings can block prying eyes, contributing to a home's overall security, while also turning your home, wherever it's located, into a haven. Verosol's range of SilverScreen performance fabrics are unique in terms of the benefits they bring together: blocking harmful UV rays, maintaining comfortable interior temperatures and maintaining views to the outside. They achieve all this while saving you money via energy savings due to a reduced need for conditioning, which also means they're good for the planet. These benefits are exclusive to Verosol and our SilverScreen metallised performance fabrics.
Fade prevention
Australia's summer climate is the envy of the world, most of the time. Unfortunately the ravages of UV degradation from solar glare during the hottest times of the year can be detrimental to interior furnishings, causing marked fading to furniture, flooring, rugs and artworks. If you've never previously thought of window coverings as a form of asset protection, remember that replacing cherished or valuable items can cost a lot more than blinds, shutters or drapes!
View curation
All the advantages listed above can very likely be achieved while enhancing wellbeing with that expansive feeling that embraces views to the outside, where needed. The right openness in the weave of the fabric chosen means you can still see that vista of a beautiful courtyard, garden, pool or landscape through your window. Conversely, other window coverings might be used to block less aesthetically pleasing outside views.
State of the art technology
Automation and the concept of the "connected home" are no longer considered futuristic luxuries. Their growing uptake means they're now surprisingly price-accessible. Good design has also resulted in user friendly, cost-effective solutions that offer safety (no dangerous cords) and energy efficiency. If you haven't considered tech-enabled products before, it's worth researching the options before embarking on your window coverings project. Many homes are increasingly benefiting from "whole of house" strategies that encompass the control of numerous solutions via one device.