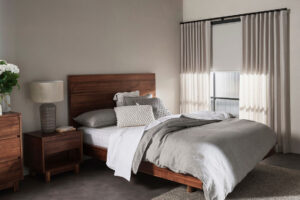 There is no reason you have to choose between sheer curtains and roller blinds. As many Australians have already discovered, if you pair them together you can have the best of both worlds.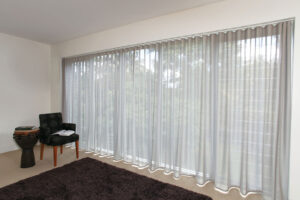 Curtains are back in style. That said, it should be noted that the types of curtains that are back in style are not necessarily the traditional line curtains that were previously in vogue.
Instead, interior designers and homeowners are turning to sheer curtains, sometimes simply referred to as 'sheers'. On top of that, often they are not specifying these lightweight curtains on their own, but opting for layered window covering solutions. Not intent on choosing between curtains and roller blinds, they are seeking the best of both worlds and pairing sheer curtains with roller blinds.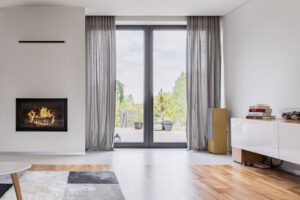 What are the benefits of installing sheer curtains over roller blinds?
The best way to answer this question is to consider the benefits of each type of window covering (i.e. roller blinds with sheer curtains) separately and then combine them. This is the key. Pairing the two types of products provides the flexibility homeowners are looking for. It would be fair to say that this combination provides more benefits than pairing plantation shutters with sheer curtains.
Sheer curtain fabric delivers style, softening of light (without actually blocking all light), privacy, and low levels of heat and glare control. With their innate ability to frame windows and natural movement (in breezes and so forth) they deliver an easy elegance that blinds simply can't replicate.
Meanwhile, roller blinds perform far more effectively than sheers in terms of things like blocking out light and creating optimal conditions for sleeping. On top of that, when paired in this way with sheer curtains, quality roller blinds featuring a performance fabric are the most effective products available in terms of glare control and thermal efficiency. Here it is important to note that quality of the material makes all the difference. Used correctly, they reduce the need for heating and cooling, cut energy bills, and help reduce your carbon footprint.
A pair of sheer curtains and roller blinds deliver homeowners the flexibility to change as the day (and the seasons) change. This is why so many people are starting to see the attractions of this combination and we are seeing more and more of them installed in this way.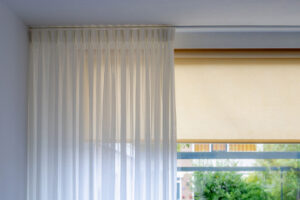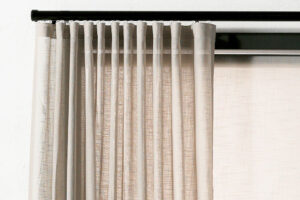 In what applications does it work to pair roller blind and sheer curtain?
In terms of where the roller blind and sheer curtain combination works, the answer is just about anywhere you require the above-mentioned benefits it delivers. That said, in bedrooms the blockout requirement (associated with the desire to get a good night's sleep) tends to be the main motivation force, while in living rooms the design appeal is often the main consideration that leads to the choice.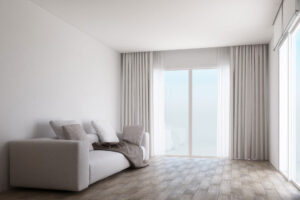 How to choose the right roller blind and sheer curtain pairing for your specific application?
Having been won over by the above-mentioned attractions of installing roller blinds with sheer curtains, the next step is deciding which actual products are right for you. While, as ever, much of that comes down to personal choice, there are some good rules of thumb that are worth keeping in mind.
First of all, you need to choose blockout roller blinds with sheer curtains that work well together and complement each other. In general, within these combinations, the sheer curtains are doing most of the work in terms of aesthetic appeal, while the rollers blinds lead in terms of performance. Still, matching them in terms of looks is critically important.
On top of that, you need to consider things like the overall style of the room, the amount of light it receives and its function within the home. In terms of choice of colour, one way to go is to match the colours of your window coverings with that of the wall, or at least only one or two shades different from your walls. Apart from anything else, one of the benefits of this is that it makes the room look larger and more spacious than it actually is.
In terms of the colours for the roller blinds, you can go one of two ways. You can decide that both will be the same colour (or close to the same) or you can mix and match. If you choose the second option you have to ensure that your two colours are a good match for each other.
Another consideration is the decision regarding the best way to hang the sheer curtains. Here style and personal choice is the sole deciding factor. Two popular choices right now are the s-fold hang (which is gentle and elegant) and recessed curtains behind the bulkhead of a ceiling. Another option known as wave fold sheer curtains involves using a special track to create the look of a wave along the length of the curtain.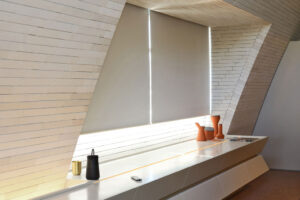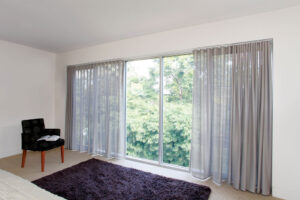 How much can you expect to pay for sheer curtains and roller blinds?
All quality window covering retailers can help with the roller blind and sheer curtain pairing. In terms of price, the range is enormous, between $150 and $1,500 at the high end for roller blinds and between $75 – $800 at the high end for curtains. On top of that, you can expect to pay $60 – $100 an hour for installation.